About us
India's most idyllic state, better known as God's own country – is today one of the most sought after tourist cum treatment destinations in Asia. Scheduled beaches, palm groves, fringed backwaters, mist clad hill stations, lush tropical forests, waterfalls, exotic wild life, monuments, art forms and festivals gives it a distinctive charm. Apart from being a tourist destination, Kerala is also well known for its infrastructure in health related services in the field of medical treatment. Kerala is also India's most advanced society. 100% literate, the state has India's highest density of science technology personnels.
Dr.Wilton's Homoeo Clinic is situated in the heart of Cochin, popularly known as the Queen of the Arabian Sea. Dr.Wilton obtained his Medical Degree in Homoeopathy from Vinayaka Missions Homoeopathic Medical College, Salem that is affiliated to M.G.R. University of Madras and recognized by Central Council of Homoeopathy, New Delhi. Soon after his graduation, he started practicing at his clinic and owns to his credit 7 years of full-fledged service to his fellowmen. His successful treatment of many incurable diseases adds a feather to his cap. His specialization is in the branch of treating cancer and diabetes related illnesses. Patients flock at his clinic on all days.
Dr.Wilton is so very dedicated to his profession that he attends his patients round-the-clock. Another remarkable specialty is his successful treatment of allopathic rejected cases like paralytic disorders, kidney problems, etc. to mention a few.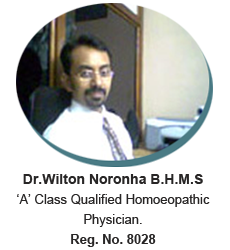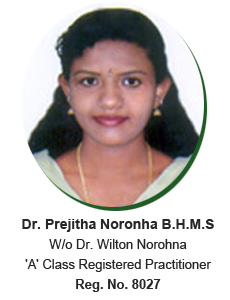 Well experienced and dedicated Homoeopathic Physician practicing along with Dr. Wilton Norohna. The enthusiastic mind of Dr. Prejitha Norohna helps her to learn and practice more and more advance methods in homoeopathy. After all her pleasant nature is always a relief to the patients visiting Dr. Wilton's Homoe Clinic.
Credentials
Research on Efficacy an Miasmatic background of CALC CARB in Bronchial Asthma.
Acquired BHMS from Dr. MGR Medical University.
A-Class registered practitioner from Tamil Nadu Homoeopathy Medical Council, India. Reg No: 8027
Training
Sarada Krishna homoeopathic Medical College, Kulashekharam, Kanyakumari Dist, Tamil Nadu.
Internship
Sarada Krishna homoeopathic Medical College, Kulashekharam, Kanyakumari Dist, Tamil Nadu.